AUA
The Association of University Administrators (AUA) is the professional association for higher education administration and management staff. With members in more than 150 institutions throughout the UK and the World, AUA exists to advance and promote the professional recognition and development of our members and to be an authoritative advocate and champion for the sector. We achieve this through our publications, geographical and themed networks, events, annual conference, postgraduate certificate and CPD framework.
Further information: aua.ac.uk, @the_AUA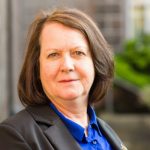 Kathy Fowler is committed to motivating as well as supporting members of the AUA during her time as chair. She tells Efficiency Exchange how to build effective research partnerships and that her perfect night at the theatre would last a week.

Dr David Duncan, Registrar and Secretary at the University of York, talks about valuing university managers and administrators.