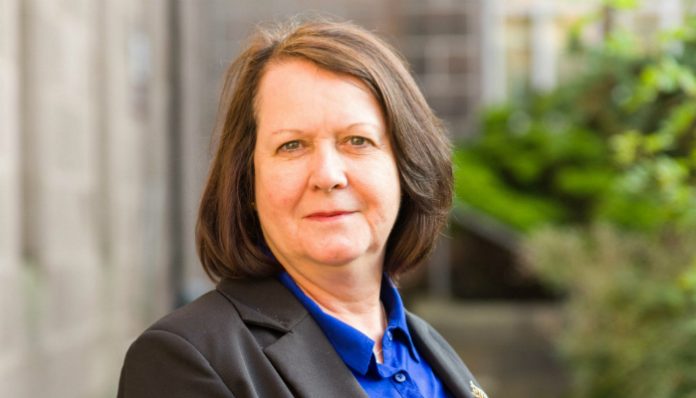 Kathy Fowler is committed to motivating as well as supporting members of the AUA during her time as chair. She tells Efficiency Exchange how to build effective research partnerships and that her perfect night at the theatre would last a week.
You've been in university management for more than two decades. Which changes that you've seen have had the most impact on the sector?
Being located in Scotland, I am conscious of the diversification and divergence of the system, although we are unified by many collaborations and similar drivers.  There has been a massive growth in complexity of the "business", in the type and focus of scrutiny, and in both the scale and type of students and learners. There has been a huge growth in accountability – REF, TEF, KIS, alongside significant legislation and reporting requirements.
What has also grown and strengthened is the professionalism of the support services, and, in so many cases, our partnership with academics has changed from a service approach to one of mutual partnership, with respect for our contributions. Change has been a dominant feature of everyday life – put simply it barely seems the same sector!
Professor Sir Ian Diamond, Aberdeen's vice chancellor, has been the driver for a tighter focus on efficiency. How is Aberdeen putting his recommendations into practice?
We have a strategic approach which drives our operational delivery. From our buildings – we have a new nursery building which is the first early years setting in Scotland to be built using the Passivhaus (passive house) design, to consideration about transport and waste, efficiency is not just about saving money, although that is a driver. The university contextualises much of its approach in terms of sustainability and "greenness". Efficient use of resources is a constant thought when planning activity. As you would expect, Sir Ian leads from the front.
One of your many achievements has been setting up research collaborations between universities for example the Northern Research Partnership. What advice would you give to other HEIs who may be in the process of setting up similar collaborations?
To always remember that the outcome will be worth the effort – there is so much to learn from others! It is easy to start on such collaborations, but you have to recognise genuinely that every party has to be a winner, so at some point one has to be ready to listen, hear and then compromise, all without losing sight of the end prize. Honesty, trust and openness are vital, as is a willingness to change and recognise that your own ways may have to change. The very complexity and difficulty of such collaborations make them interesting and rewarding.
You're chair of the AUA during a particularly turbulent time for the sector. What will you be doing during your time in post to calm your colleagues' nerves?
The AUA is a team effort, so I, my colleagues on the board, and the AUA office all work together. We give each other mutual support and we all passionately believe in what we do.
We will be reminding our members that, as I said before, the HE sector is continuously evolving and changing, and reinforcing the message that the AUA offers support, a family of like-minded colleagues and critical friends with shared values and experiences, ready to share and alleviate anxieties, forge new ways of working to ensure that we look beyond narrow boundaries to wider, shared goals. Together we can face whatever the future brings, remembering that our sector has been able and will be able to meet challenges, adjust to new environments, and be stronger for the experience.
Practically, the AUA through its programme of events, its learning portfolio (and I am especially proud of our PG Cert), and its tools such as the CPD behaviours framework and the PDP suite, offers real, grounded support at every level. Our regional and thematic networks provide focused fora to address pressing issues in a supported environment operating on the maxim – a trouble shared is a trouble dealt with! We extend this through our partnerships network with sister organisations, and the potential to benefit from overseas experience through our study tours.
Through the Mark of Excellence, which celebrates the investment of institutions in professional services staff, the AUA has established a way to measure demonstrated excellence in the professional services – we offer so much support for our colleagues.
Nonetheless, we are not resting on our laurels. We continue to build and explore how we can support our members not just now, at a time of change and uncertainty, but in the future. A turbulent time but a great time to be engaged.
What is your favourite aspect of life at the University of Aberdeen?
I am sitting in my office today, looking out on a clear blue sky reflected in our magnificent library, a very modern and iconic glass building. We have a beautiful campus set in an ancient setting, with our wonderful 16th century Kings College balanced by this ultra modern library. I can take a lunchtime walk to our beach or see otters in a nearby park. But my favourite aspect is the people I work with, who I like and admire – both in the professional services and academics. They make the university a wonderful place to work. There is plenty of diversity too – a  university career remains one which offers huge opportunities.
Universities are trying to adjust their offering to prospective students to improve things like employability, what are the fundamental ways they can do this?
I work in the Institute of Energy, so employability is a theme we are very familiar with. We need to be in continual dialogue with employers and industry to understand the needs they have. A university education is so much more than acquisition of knowledge – in everything it is learning to learn that is important.
Moving away from the traditional three- or four-year degree programme to encompass work placements is one way to integrate industry experience into learning. We have a wonderful local base of industry experts and we engage them directly with our degree programmes – planning, developing and delivery, which provides real-world relevance to our students. Apprenticeships allied to degree programmes are an emerging trend. I believe we need to be open to embracing continual learning within the context of degree programme structures.
Outside university, you're a board member of the Aberdeen Performing Arts charity. What would be your perfect programme of entertainment?
It would probably last a week! I studied English literature at university, so I love classical drama but I would need music, opera, dance, comedy and even popular culture to be really happy. What I love is when a performance opens your mind, questions your beliefs, challenges assumptions and makes you laugh and cry – the recent production of The Curious Incident of the Dog in the Night exemplifies that – a perfect night of theatre.