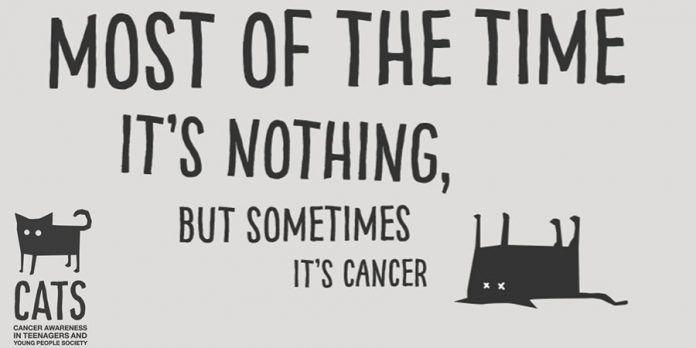 In the second blog of our student experience series, Ellie Dunstone, a student at The University of Cambridge, shares with us the experience of the society she is involved with, the Cancer Awareness in Teenagers and young people Society, also known as CATS.  Universities have a wide range of societies run by students which include sports, lifestyle choices, religion, hobbies and health.  Societies can be valuable to students, learning skills which can support them in their future careers, supporting their own mental and physical health as well as others, demonstrating that there can be more to the student experience than the course.
The CATS campaign for cancer awareness in teenagers and young adults was started by someone who knows first-hand the importance of recognising and acting on the early signs of cancer in young people.  James Adams was 17 when he was diagnosed with a brain tumour, and like many of the 2400 people between the ages of 15 and 24 that are diagnosed with cancer each year, he initially dismissed his symptoms, postponing his diagnosis and treatment.  Currently, too many diagnoses of teenage and young adult cancer are happening in accident and emergency wards, often once symptoms have become severe, leading to worse outcomes for patients.  At CATS (Cancer Awareness in Teenagers and young people Society), we are trying to change this by promoting awareness of the signs of cancer and encouraging people to seek help earlier, ultimately improving their chance of successful treatment.
The campaign was originally founded by James in his hometown of Manchester, but has since spread to 5 universities throughout the country.  Now a registered charity, the campaign raises money to improve awareness of cancer symptoms and support students affected by cancer, raising over £1,500 last year in Cambridge alone.
What we do: the CATS Cambridge example
The CATS Cambridge team organise a wide range of events and campaigns to raise money and awareness.  Our fundraising activities have included formal dinners at Cambridge colleges, pub quizzes, and puppy petting events, giving students an opportunity to have fun and relax during term time, while helping the charity. We also work to help students affected by young adult cancer, by running tea mornings for cancer survivors and providing confidential support.  To raise awareness, we go into sixth forms and colleges to talk to young people  about the different kinds of cancer they are at risk of and how to recognise them, organise talks from scientists working in the field of young adult cancer, and have run a successful poster campaign on the five most common signs and symptoms of cancer. We have had an extremely positive response from our fellow students, and the number of students that now know these important warning signs of cancer is increasing, a huge success for our campaign.
Our plans for the future
In the future, CATS hopes to form societies at more of the universities in the UK, aiming for all young people to be aware of the issues surrounding teenage and young adult cancer.  As the society spreads and existing campaigns become more established, we hope to continue increasing the amount of money we raise year on year, funding more high profile awareness campaigns and improving our ability to support those affected by cancer.  The ultimate goal of this is to increase the number of early diagnoses, improving treatment success and survival.
For more information on the CATS campaign or the signs and symptoms of cancer in teenagers in young adults, or to make a donation, please visit our website http://www.thecatscampaign.org/