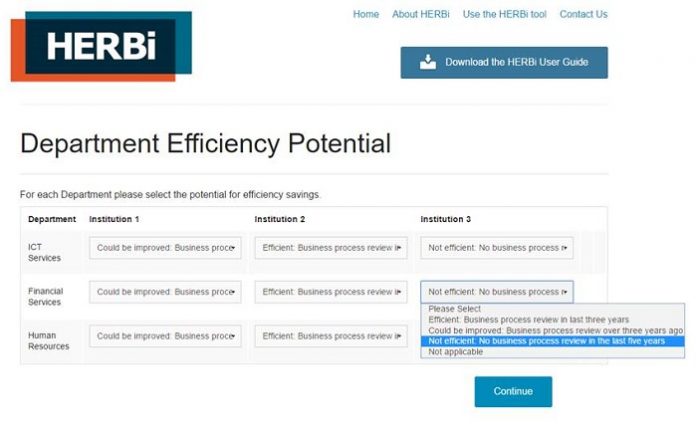 A web-based tool that allows higher education institutions to explore the quantitative and qualitative costs and benefits of sharing services is now live. Project manager Simon Perks tells us more about how HERBi can help you.
The Higher Education Realisation of Benefits interactive (HERBi) tool allows universities to learn more about the options available to them when it comes to sharing services. And by allowing users to model a variety of arrangements in a number of ways, the tool can help them to try out different ideas and to make better decisions.
Designed to bring hard data and rational analysis to an area that has hitherto been dominated by exuberant claims and unbridled enthusiasm, HERBi has been funded by HEFCE and developed by Falmouth Exeter Plus, the shared services delivery partner of Falmouth University and the University of Exeter. And it's completely free to use.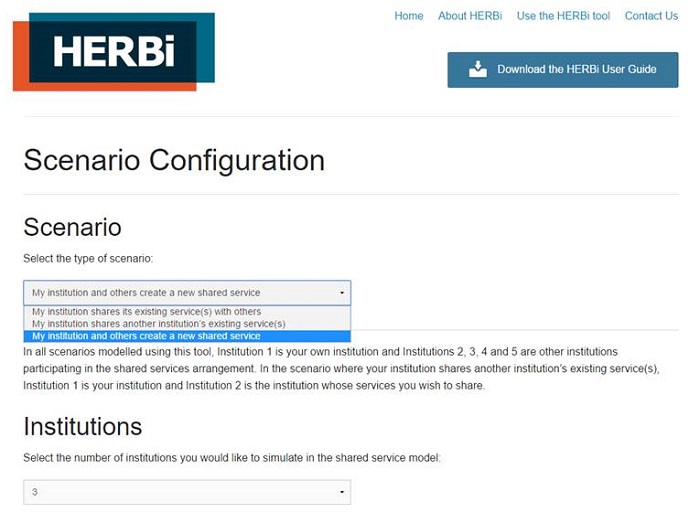 How HERBi works
Using the tool, users can model up to five institutions and nine different service areas in any one of three shared services scenarios. They can also specify whether or not the arrangement will be set up as a cost sharing group, what governance arrangements it will have and how staff cost savings will be achieved.

Users will need to input basic cost and activity data for their institution, but HERBi can take it from there, using the parameters built into the underlying model to identify the nature and scale of both quantitative and qualitative costs and benefits of the proposed shared services arrangement.
Users don't even need to have specific partners in mind, as HERBi can generate partner cost and activity data for you.
The tool draws on the experience of Falmouth Exeter Plus, which provides a broad range of services on the Cornwall campuses of its two partner universities, including their shared Penryn Campus. In developing the tool, we have also pored over the academic and practitioner research into shared services. And we have subjected the tool to a detailed process of testing and review by a project steering group and by willing volunteers from other institutions across the sector.
Looking to the future
As far as we know, this is the first time anyone has tried to develop a model like this. But HERBi is, clearly, only a model. And so it can only ever provide a broad indication of the nature and scale of the costs and benefits involved in a particular shared services arrangement.
What we do know, however, is that sharing services is all about sharing the fixed costs of delivering those services. Because that's where there are savings to be made. We know that it is better to share lean, efficient services, rather than flabby ones. Because inefficiency costs more and wastes time. And we know that standardisation is the key. Because the more we do things the same, the more we save.
HERBi is not, though, about saying that sharing services is always the right answer. You don't need me to tell you, I'm sure, that launching into an ill-advised shared services arrangement can be a time-consuming, money-wasting, reputation-busting, soul-destroying, career-ruining disaster.
But it can, just sometimes, be the path to better services and a more financially sustainable future. So if you're interested in sharing services and want to get a feel for how it could work and what sort of costs and savings you might be looking at, then HERBi's for you. Head on over to www.herbi.ac.uk to give it a try.
Simon Perks is project manager for the HERBi project and Director of Sockmonkey Consulting, which provides research and consultancy services to organisations in the public, not-for-profit and social enterprise sectors.