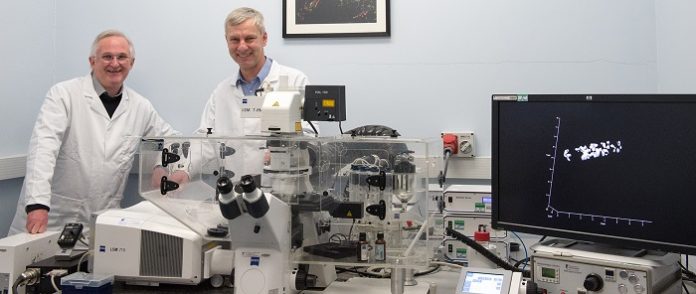 Last year, Paul Greatrix, registrar at the University of Nottingham wrote about the unique way in which Nottingham and the University of Birmingham work together. A year on, and now celebrating the fifth anniversary of their partnership, his prediction of the emergence of a culture of greater openness and collaboration is bearing out.
In 2011, the universities of Birmingham and Nottingham established a broad collaborative agreement to use our complementary strengths to generate innovative opportunities in research, education and professional services. Since then we have seen our partnership evolve and develop, and my post as collaboration manager was created last year to oversee and support all of our collaborative activity.
As two large research-intensive institutions, much of our partnership work is focused on research, and the number of projects and publications involving both Birmingham and Nottingham researchers has increased substantially. Together we have invested more than half a million pounds to seed a wide range of projects, and we have reaped the benefits of this investment many times over in terms of external research grants, publications, conference presentations and workshops. We are also formal partners in a number of Doctoral Training Centres, including the new Wellcome Trust Doctoral Training Centre in Antimicrobials and Antimicrobial Resistance.
To mark our fifth anniversary we have recently announced a ground-breaking £10m joint research venture, the Centre of Membrane Proteins and Receptors.
Thinking innovatively
This unique approach to bring together internationally-renowned scientists from both universities and equip them with some of the most advanced facilities in the world will allow us to combine our individual strengths to identify new ways to target drugs while limiting unwanted side effects – with a particular focus on cardiovascular disease and cancer.
The centre itself will draw in current Birmingham and Nottingham researchers and will also involve the creation of a number of new joint academic and professional service posts. This is challenging us to think innovatively about the most effective ways of operating together at this scale, including everything from joint recruitment to research equipment management, financial operations, and secure access to electronic files. I hope the work to establish and support this centre will also lead to long-term and broad-reaching solutions that will provide efficiencies at both universities.
Aside from research, we are undertaking a number of other collaborations, including several joint projects around assessment and feedback and curriculum development. We have worked to develop a range of events designed to bring staff together, including a joint education symposia series, and we also run a successful joint early career research leaders' training programme.
Sandpits
Our professional services staff have come together to engage in sandpits which, amongst other things, resulted in joint procurement and benchmarking. I would argue though that, in this area, our efficiencies stem as much from learning from each other's experiences and exchanging ideas, as from participating in formal joint projects together.
My unique position of having a base in both universities and oversight of the whole of our collaboration has led me to conclude that the (now not so) secret to our success is in the relationships between individuals. While that may not be a dramatic conclusion, I have learnt that collaboration works best when opportunities are identified by those engaged in a particular activity, and that if we invest in bringing individuals together – financially or otherwise – the natural fall out is the identification of unique and interesting projects. I am hopeful that our combined efforts will continue to lead to exciting research and an enhanced staff and student experience, and that we will capitalise on the opportunities to operate more efficiently along the way.
Rebecca Lewis is a collaboration manager for the Universities of Birmingham and Nottingham.