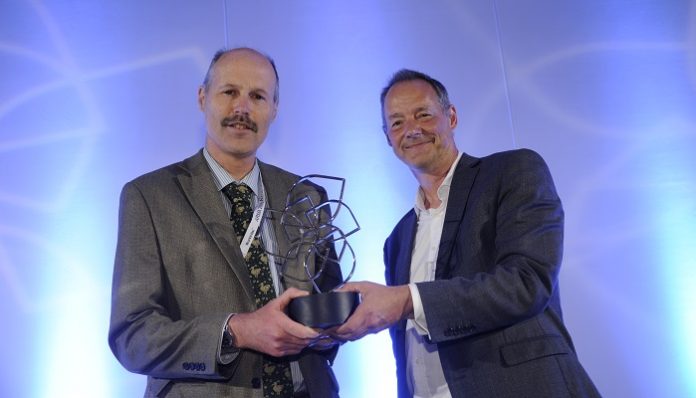 Fresh from his success at the ARMA awards, the University of Oxford's director of research services, Dr Glenn Swafford (pictured left) talks to Rosie Niven about the challenges of continuous improvement and the university's achievements in equipment sharing.
1. How effectively do you feel that research administrators are contributing to the Diamond II efficiency agenda?
My sense is that research managers and administrators (RMAs) in the UK are very aware of and committed to both the research efficiency and overall higher education institution (HEI) efficiency imperatives.
What feels most challenging is the degree of interdependency in the national eco-system. For example, funders' actions can help or impact negatively on HEI costs and efficiency. Contracting and collaboration tools designed for speed and efficiency like the Lambert Agreements are much talked about, but in reality too seldom used.
Scores of HEIs each have to create research data curation tools rather than be able to rely on national facilities. Many parts of the system solicit or collect research activity and outputs data, of various kinds and quality and in different ways, and we lack inter-operable systems or a common purpose.
Most government departments who wish to access HEI research expertise or collaborate seek to impose untenable research publication, indemnity or other clauses. Government needs to listen and act when HEI RMAs highlight ways to reduce administrative and regulatory burdens and make the national picture much more efficient.
2. You were praised for an ongoing focus on continuous improvement when you recently won an ARMA award for your outstanding contribution to research management and Administration. How do you maintain this focus?
This has always been a team-based priority, aided by an organisation's culture. There are many stimulants to review and improvement in RMA – not least, of course, wishing to do our best to help researchers and research leaders and their collaborators. The people we work with in HEIs, and externally, set high standards – and so do we.
Anyone who solicits or is open to customer feedback will always be learning and wanting to improve and have plenty of ideas to work on. Opportunities to learn and be stimulated and challenged also come via ARMA, PraxisUNICO, AUA and our other professional bodies in the UK and overseas; on standing or task groups we set up or become involved in through, for example, the Russell Group or the League of European Research Universities, and staff exchanges.
We also watch out for and contribute to articles, blogs and reports, including via the Efficiency Exchange, which help compare share and identify good practice. At Oxford there is a continuous improvement ethos across the RMA network.
3. How much more potential is there for savings through research equipment and facilities sharing and how can universities go further?
It is hard for me to say. Those best placed to know are the researchers themselves. RMAs and others can and do help to address some of the practicalities, via equipment databases and template legal agreements, but the most crucial factors are shared academic agendas, access, finances and benefits for researchers.
Huge prestige, drawing power and other benefits still attach to what equipment is where, in light of which HEIs can and will only go so far. That said, Oxford researchers have led our equipment sharing project and, taken some fascinating local and cross-department initiatives to optimise use. We have used the equipment database to help plan future needs and joined with Science and Engineering South and national platforms to help share equipment and facilities.
 4. Does Oxford's collegiate structure pose extra challenges when it comes to the efficient management of research support? If so, how do you overcome this?
Challenges, yes, but no more so than in any of the other universities in which I have worked. And our challenges in RMA at Oxford are not due to the collegiate structure but rather the high degree of devolution and distributed authority.
We strive to ensure things are well coordinated and that we complement each other's activities and skills. Local and so-called central – or university-wide – RMAs plan and deliver a joint professional development program, network meetings, online forums and research support staff conferences. There are core policies and procedures and information and learning resources to ensure consistency.  
Our pro-vice chancellor for research and innovation sets clear strategic themes and priorities in discussion with the university research-related committees. RMAs at Oxford work to an academic-led agenda around excellence, engagement, impact and value for money.
5. When you are taking time out from research administration, what do you like to do?
My late grandma often would say to me, "You must have ants in your pants!" My family and I love to get out and about in the fresh air, playing sport, walking, running and hiking.
Oxford colleagues joke that my entries for the Research Services Newsletter mostly revolve around travel; wandering in the countryside, visiting gardens, villages and heritage sites and proving that you can get to most, though admittedly not all, places by public transport.
Dr Glenn Swafford is director of research services at the University of Oxford