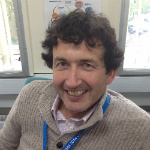 Adrian Cox, based at the University of Southampton, is project manager for equipment.data, an EPSRC funded project in response to the need to improve visibility and utilisation of UK higher education research equipment. 
We sat down for a ten minute chat with Adrian to find out exactly what equipment.data is all about and how it's creating opportunities for efficiencies among institutions UK wide.
What does equipment.data do?
The equipment.data website uses a relatively simple piece of programming technology that enables searching across  published UK research equipment databases through one aggregation portal. It provides a 'shop window' for UK HE equipment and facilities, enabling greater accessibility and importantly encouraging conversations with the aim of improving efficiency and stimulating greater collaboration in the sector.
Where did the idea for the portal come from?
The technology behind equipment.data was developed in partnership between a number of UK universities, taking forward outcomes of the Uniquip Project – which aimed to define and inform standards for cataloguing and publishing information about research facilities and equipment across universities. The success of Uniquip was identifying the potential for a national portal to bring together equipment databases already published and encourage new ones.
Why should institutions get involved in equipment.data?
It's actually very easy to get involved – we already have 19 institutions contributing to the portal, listing nearly four thousand pieces of equipment and facilities, so it's gaining great momentum. I would list the top benefits to getting involved as:
It enables greater visibility of published facilities and equipment, potentially to much wider audiences, including those possibly not previously considered, opening up new opportunities for partnerships and collaborations.

It improves the 'shop window' for your equipment through greater discoverability of the data and therefore potential use in other databases or apps.

It provides a simple format for the creation of larger datasets such as selected institutions. This offers a range of analytics including equipment providers, procurement decisions, funders or even analysis of regional capabilities between institutions.

It avoids the need to develop complex databases or prescribing particular solutions, you can even use a simple excel spread sheet.

It improves data sustainability and engagement in data management – by using existing finance data, added value is gained from the dataset whilst at the same time enabling, through its re-use, a mechanism for enhancing the quality of that data.

There are a now a number of systems available which are compatible with the Uniquip Publishing Specification, including Agresso, Pure, Worktribe and Kit Catalogue. This industry interest in the standards is advancing the use of open data techniques.

Adopting improved methods for data discovery such as the use of an

Organisational Profile Document

is creating the infrastructure for the auto-discovery of future datasets, making

 the creation, publication and re-use of large data sets easier.
What are the next steps for equipment.data?
Equipment.data has the backing of RCUK as its preferred medium for national equipment data sharing and offers a scalable solution without the need for complex software systems. We are now sharing developments with the Gateway to Research team and the DCC with a view to exploring mutual benefits of data publishing, aggregation and standardising of publishing profiles in data management planning.  Establishing harmonised standards in open data will present many wider benefits as we move forward, including the ability to very easily link information on large equipment items or facilities to their publications and grant details – think measuring impact for REF!  It will also enable the creation of data rich informative webpages or informative apps without the need to create whole new datasets.
Adrian Cox is Project Manager of equipment.data. If you would like any more information, would like to get involved or have any questions, please contact him.