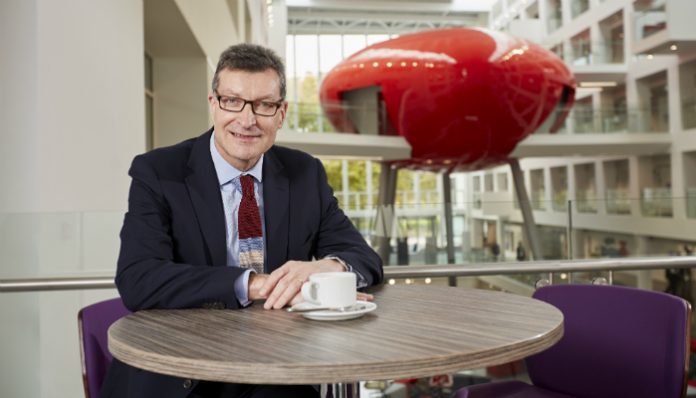 From embracing the degree apprenticeships programme to widening participation, Southampton Solent is grasping the challenges of a fast-changing sector. In an interview with Efficiency Exchange, vice chancellor Professor Graham Baldwin says he thinks the pace of change will only increase.
1. What do you think is the biggest short to medium-term challenge facing Southampton Solent?
We are experiencing increasing competition as a consequence of a number of factors including the changing demographic, recent legislation and we can expect further changes as a consequence of the Higher Education and Research Bill.
All of this is underpinned by changing student expectations and the increasing influence of new technologies and globalisation so the sector is having to respond in different ways. Here at Southampton Solent we are doing that by ensuring that we have a very clear offer, that we demonstrate our distinctive characteristics, as well as ensuring that everything we do puts the student at the heart of our processes and that we maintain the highest possible standards.
I believe it is a great privilege to be able to work with young people and to help them to maximise their potential
In the longer term it is more difficult to see what the university sector will look like. What I am pretty sure of is that the pace of change we are currently experiencing will only increase, and we won't get away with business as usual but I'm confident that we as a university will be able to respond by demonstrating the characteristics of innovation and creativity, that we have shown routinely throughout our history. I think we need to be adaptable, flexible, agile, creative and innovative and I am confident that we can be all of those things.
2. In what ways do you demonstrate value for money to students at Southampton Solent?
We're committed to investing in our campus in order to offer the best facilities to our students. Last year we opened the Spark learning and teaching building, a space aimed at encouraging creative, interactive and flexible ways of learning; and we will soon be starting work on our new indoor sports building.
We recently extended the academic teaching year and have incorporated enrichment week which focuses on key areas of additional development. We also provide an innovative and attractive academic offer that equips students with the skills they need to succeed in the real world. We work hard to develop new courses and the close ties with industry that give our students the best opportunities following graduation.
3. How will you implement the government's degree apprenticeships policy?
As part of our commitment to inclusivity, we provide a range of financial support to ensure everyone who wants to become a Solent student has the opportunity. Any alumni looking to further their studies are also eligible for reduced tuition fees on postgraduate degrees or professional qualifications.
One of our main areas of focus is real world learning so this is an area of particular interest. and we already have an experienced team in place leading on such work. We have been successfully delivering similar programmes within the health sector for five years and have also been involved in the trailblazer development of standards for health, leadership and management, and construction, as well as being a lead for the employer role for higher education. This has involved working with businesses to help them realise there is a growing need to engage with education and skills providers, and to demonstrate that higher and degree level apprenticeships are an excellent opportunity to identify and nurture talent, and shape the skill sets of the future.
We have also been using our close relationships with schools, FE colleges and other training providers to help them explore the ways in which this type of training can give more young people an easier entry into the world of work. Our early areas of focus include leadership and management, construction, engineering, digital and healthcare.
However, we are now also responding to requests for support in areas including accountancy and financial services, project management, law and human resources. There are numerous opportunities and we are working closely with companies in order to first identify their needs and requirements, then explore what tailored approach will allow us to deliver a complete and efficient solution.
4. Which efficiency innovations at Southampton Solent are you most proud of?
One initiative I was particularly pleased with because of its simplicity was the removal of individual printers and the introduction of remote printing. At the time it was not the most popular initiative but it has worked well and is forecast to generate savings in excess of £1.2m over five years and significantly reduce our carbon footprint and environmental impact.
We did this by for example using digital platforms to share documents and introducing a free scan to email service, plus restricting colour and single-sided printing. Only this morning a colleague told me how the change has helped them. Now they can print anywhere no matter which building or indeed campus. So a simple change has improved efficiency, improved working for colleagues and led to a significant financial saving.
We are also working on a 'One Solent' initiative which is based on the four Ps of People, Product, Process and Place. The process phase is looking at improving our effectiveness and efficiency by looking into the way we work.
5. How have your degrees helped your managerial and leadership career?
They helped by giving me the graduate attributes that we often reinforce to our students. My degree was one of the first sports studies degrees and provided me with the ability and confidence to work individually, or as part of a team. It was multi-disciplinary and required a range of skills with a practical approach; we had to be flexible and adaptable.
I always find it beneficial working with colleagues from other institutions and organisations, whether they be international or more local
I learnt a huge amount in my PGCE programme that I still promote and do in my working life today. Again it required the ability to organise, articulate clearly and take people with you.
My other postgraduate courses required discipline, organisation, and of course staying power. Above all they gave me a passion for my subject, a passion for education and a desire to be in a position to pass that on to other people to help prepare them for the future.
I constantly tell my students they are the leaders of tomorrow. I believe it is a great privilege to be able to work with young people and to help them to maximise their potential. Without having done my degrees, I would not have been able to do that.
6. You work with educationalists overseas, from what you've seen, what can they teach us about university education?
I always find it beneficial working with colleagues from other institutions and organisations, whether they be international or more local.
Early in my career, I remember one particular academic from Norway discussing student attendance monitoring. He didn't believe in it; if the students weren't in the classroom then it was his fault because he wasn't making it interesting enough. That provided considerable food for thought and certainly influenced my thinking and approach to teaching.
7. When you're not working, what do you enjoy doing?
My situation at the moment means that I spend my working week down here in Southampton and my weekends at home which is on the Lancashire/Cumbria border. Although that provides me with a fairly hefty commute during the week it means that I can benefit from the beautiful countryside of North Lancashire and South Lakeland which is ideal for walking the dog and enjoying the natural environment.
Being away from the family during the week means that my main pleasure is spending time with them and although my three children are away at university, we visit them as much as we can.