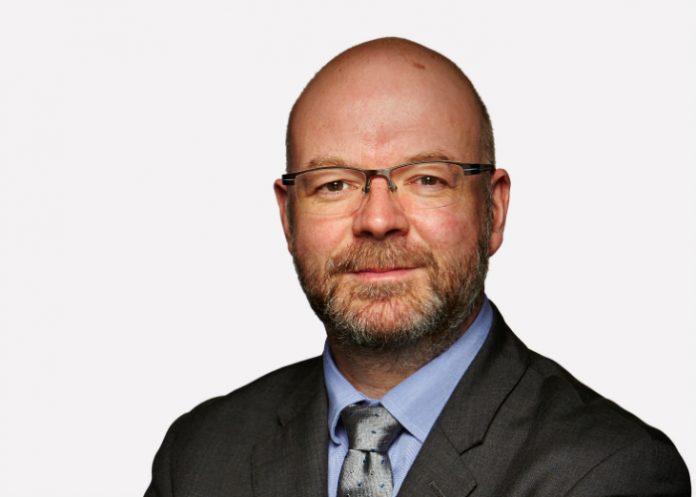 Crusader or Byzantine? New AHUA chair Lee Sanders has been asked some unusual questions during his career. Now he's registrar and secretary at the University of Birmingham, he tells Efficiency Exchange what he thinks are the key drivers of excellence in higher education and of his plans for AHUA.
1. What is your professional background?
I've worked in university management since 1990. While undertaking doctoral research at Manchester in medieval history, my supervisor suggested I apply for a management trainee job at Warwick University. I'd also been applying for academic jobs at the time but I chose the administrative job at Warwick.
It had a particularly novel approach to training administrators. Mike Shattock, the registrar, hired people who were intellectually confident with a bit of 'snap' about them, who had an empathy with academic life, and were bright enough to learn new things. It was a fantastic training-ground: you were moved around every couple of years to different roles and spent time abroad seeing at first-hand what makes world-class universities. It produced great generalists, who had the ability to see things broadly and weren't fazed by innovation.
I was at Warwick for 13 years and did a lot of different jobs. The number of registrars and COOs Warwick has produced is legion.
2. What makes for effective and efficient university management?
I have quite a capacious view about what constitutes effective university management. It is much broader than questions of efficiency, value for money or operating models. It boils down to enhancing the academic performance of the university and as COO, in my view, you have to play an active role in this.
I remember being asked at an interview whether, stylistically, I was more a Crusader or a Byzantine!
We contribute through an integrated approach combining: the services we run; good policy advice and leadership; people leadership and talent development; effective decision making, sound governance; intelligent application of external regulation; and active external engagement to read the external environment and bring home best practice. Partnership working across the institution is important, and it needs a focus on continuous improvement, as you don't always get things right. I necessarily get involved in influencing national policy issues. At the moment that includes: HERB and its aftermath, TEF, international students and Brexit etc; because the policy framework informs and is informed by how we run our institutions.
3. Tell us an about improvements where people have been able to work more efficiently.
I played a big hand with a couple of colleagues in setting up the Cubane benchmarking exercise for the Russell Group, which is yielding very interesting information on efficiency and effectiveness, and which we are using to review and improve our operations. But this doesn't tell the whole story.
Running world class universities isn't simply about efficiency. The world's great universities are characterised by excellence in faculty and strong intellectual cultures at subject level, not so much by issues of process and governance. Indeed they are often messy, highly complex places and navigating them is a real skill. In this context, it's important that key operations that are central to academic performance are best in class. Others just need to be run well.
So for example, you want student recruitment, student welfare, and careers and employability to be best in class, even though you may need to invest more in these areas. You want high quality research support that enables academic colleagues to win grants and produce great research. One thing I learnt early in my career is that shrewd financial management of the institution is a bedrock, which creates the basis for investment.
4. Who do you admire among your peers and why?
I could choose several and it would be invidious to pick out individuals. There are some great people in university management across the sector. One of the reasons I took on the AHUA chair's role was that I think it's important to have an organisation to bring colleagues together to share experiences and practice. Of course universities compete, but higher education is also highly collaborative and colleagues are very generous in sharing.
5. You did postgraduate research in medieval history at the University of Manchester, why did you decide to move into the managerial side of HE?
I find it hugely rewarding what I do. I'm probably a better administrator than I would have been an academic but who knows?
6. Have you been able to apply any of your medieval history knowledge in your work?
When you do postgraduate research and university teaching you've had some experience of what it's like to be an academic and I've always used that as a touchstone in my career. It's shaped my approach to university management. Have I used medieval history specifically? I still read a lot of it and go to the occasional lecture.
Higher education is also highly collaborative and colleagues are very generous in sharing
Someone once said medieval history training must be useful to be able to understand the arcane language of university charters and statutes. I also remember being asked at an interview whether, stylistically, I was more a Crusader or a Byzantine!
7. What goals have you set for your time as chair of AHUA?
As I set out in my blog, I have three main themes as AHUA chair. First, I'd like AHUA to continue to be a go-to organisation for informed, wise and well-respected policy advice for government and sector bodies. Second, AHUA is an inclusive organisation, embracing the diversity of HE organisations and the variety of members' roles. Our diversity means our voice is more authoritative and gives a basis for sharing issues and practice. With our UK-wide membership we can contribute significantly to issues in all parts of the UK, and reflect on differences and common themes. Third, AHUA will continue to be an effective member organisation, whose support and services are valued. As a community of practice, AHUA provides a range of events and opportunities for peers to come together to network, discuss, share, learn, mentor and develop. We pioneered talent development in HE management, through schemes such as Ambitious Futures. I am keen to encourage active engagement in the association through conferences, regional meetings, learning sets and the AHUA blogs and forum.
8. What do you read when you're not catching up on what's happening in the sector?
I read all sorts of different things and I am notorious for having several books on the go at the same time. I've just finished Sebastian Barry's Costa prize-winning novel, Days Without End. This is a beautifully written, touching, yet sometimes brutal story set in the American West, which raises important questions about identity and self-renewal. I still read a lot of history. I'm just about to read David Bates's new book on William the Conqueror.
9. Finally, in your introductory blog to AHUA members mentioned above, you lamented the lack of recent novels or TV series about government and higher education. If you could fill that gap, what would your elevator pitch be?
Well, I've seen an awful lot of the action over the last 25 years so I have a lot of stories and tales about the sector and its personalities. Whether I'd ever write them up as a novel or something else I don't know. I think the pitch would have to be something different to the classic campus novels of the past – maybe the main character would be someone coming from my type of background.