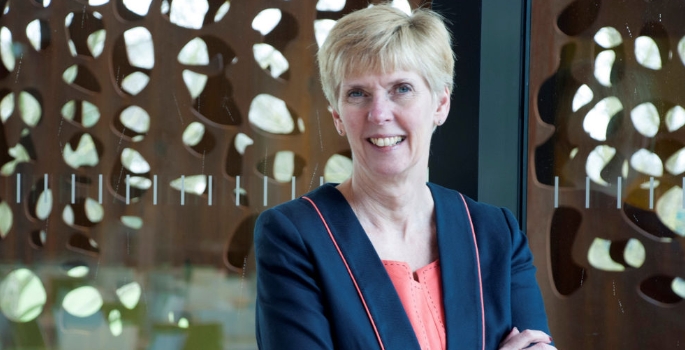 Oxford Brookes, like most universities, is facing pressure on its estate from increasing student numbers and higher expectations. We talk to the university's director of estates, Sue Holmes, about how she is dealing with these pressures.
Are universities making the most of their estates? If not, how could they do more?
Universities are making the most of their estates and student experience remains our priority. The sector has seen an increase in student numbers as well as the cap lifted this year.  Investment spend increased last year, improving and maintaining estate and service quality and as a sector we continue to hold revenue costs. Awareness of varied estate challenges led AUDE to identify a set of key performance indicators to help us assess how effective our campuses are and where we can look to improve some of those indicators for a better estate.
What has been your biggest achievement at Oxford Brookes in terms of efficiency in estates?
We are just finishing a number of linked refurbishment and rationalisation projects that tick a number of boxes.  We are bringing teams together, improving student facing services by location, consolidating vacated space for future large refurbishment projects, improving flexibility and space efficiency by an average of 18% on each sub project and improving our carbon efficiency.
What projects are you working on at Oxford Brookes?
We are tendering our next three key projects to improve teaching and research facilities for two of our faculties.
Our benchmark for quality and standards is our John Henry Brookes building and building on those principles we are creating more flexible learning zones for students and adopting a  "long life- loose fit" approach to the refurbishments, thinking about the envelope and infrastructure to meet current and future needs.
Our carbon reduction commitment is key to our strategy – improving environmental efficiency with every project. We have been modelling whole life costing within projects to understand future revenue impacts and commitments.
We have been developing a residential strategy to address the particularly challenging situation that we have in Oxford. This will involve a major refurbishment plan as well as looking at other opportunities to balance the portfolio.
As universities develop more business-like characteristics, what are the implications for estate managers?
The funding situation is ever more challenging and demand from students in terms of quality and facilities is quite rightly high. We manage the balance between capital expenditure, operational needs, infrastructure upgrades to reduce any inherited backlog and create an affordable future long term maintenance plan.  
A percentage of our costs are fixed – statutory compliance, rates, rents and utility costs- and this puts pressure on other budgets. We are often responsible for generating large surpluses from use of the estate around teaching and research. Many of us run conference services that whilst adding much needed surplus and increase job opportunities, also add to estate wear and tear and increased operational costs.
Can you tell us about some of the sector's biggest achievements when it comes to using space more effectively?
We need to manage space efficiently within a quality environment. A number of universities have developed new and innovative spaces including shared and flexible space and shared offices. New types of group and social learning space with support of cafes are much in demand, and we're providing more flexible specialist spaces for teaching and research.
Our drive for income sees more space being flexible for income generation. We have developed metrics on income per square meter to identify best practice whilst being aware there is huge breadth and diversity within the sector. Research space is often so specialist and impossible to make more multi-functional.
Is it challenging to meet rising student expectations at the same time as finding more efficient way of working?
Expectations have quite rightly risen with increases in fees and growing demand over extended days or on a 24 hour basis, creating other challenges for cleaning, maintenance, services and security.
We continue to improve the overall quality of the estate and have addressed carbon reduction across the sector, despite some significant increases, especially in research intensive universities. We hope our statistics demonstrate the reality behind the complex world we manage and provide a health check.  We need modern and effective facilities for work, rest and play. Our residential portfolio is significant.
What is the best part of your job?

No day is the same, there is such breadth and challenge, change is constant and that is wonderful. I really find it a privilege to work in a vibrant HE sector. I was lucky to be chair of a professional body whose members do such a great job.
Sue Holmes is director of estates at Oxford Brookes University and former chair of AUDE