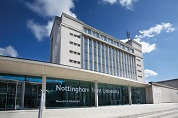 'One version of the truth' holds the key to providing timely and accurate management information across the institution, explains James Lacey, Finance Director at Nottingham Trent University.
The challenge
"I would like to know the daily business position" said the Vice-Chancellor. "Fine, leave it with me and I'll get it sorted," I replied. A simple enough challenge and a confident response, but there was a lot of work to do.
Universities have never lacked for information. There is a mountain of it available from agencies and from internal systems and it would be easy to drown in all the data. In addition, most of that information is historic and not always accurate.
So, how does too much old information help us to manage the business, to make the right decisions at the right pace? Other than provide useful context, it can't.
Our challenge therefore was to provide the right information to everyone who needed it when they needed it, both historic trends and future projections. To move away from reactive bespoke reporting to systematic reporting and critically to have only one version of the latest information.
So 'at a glance' dashboards = job done. Right?
Not quite. Initially projects like this begin with the dashboard in mind – an 'at a glance' overview of the performance of the organisation. Whilst this is valuable, if senior managers need information they can get it by asking. The big wins therefore may not be the provision of new information but the efficiency of its production, the accuracy of the information, the single version eliminating debate over whose numbers are right and the on tap availability.
We needed analysts not data crunchers
We'd had some successes in this area, but they had been very hard work. The key university systems – student records, human resources, finance – had all been implemented at different times using a range of software and adopting a variety of coding structures.
To produce meaningful management information became the work of a few highly knowledgeable, well respected and hugely overworked colleagues who knew how to extract data from the key systems, manually intervene to correct any deficiencies and somehow join it all together.
Clearly this was an unsustainable position. Higher education is a competitive environment and we needed better information on demand. We needed analysts not data crunchers.
The solution
We already used the COGNOS business intelligence software for financial reporting and we decided early on to expand this to reporting student and staff information. We also knew that the spreadsheets and databases we used for planning and budgeting were unfit for purpose in terms of robustness and efficiency.
The first project implemented COGNOS Planning for student, staff and financial planning. The planning models drew data from the core systems and allowed colleagues to enter plan data. They could create and consolidate medium-term financial plans and then model scenarios using consistent key assumptions for variables such as fee levels, inflation, wage awards, student retention and salary increments.
Following our success with planning, we turned our attention to reporting, again using COGNOS as the tool. Initially we focused on student reporting in areas such as admissions and enrolments before incorporating financial, space management and human resources reports.
Today
We now have over 300 reports available covering all aspects of university activity. The information available is accessed on average 400-600 times a day. At critical periods such as through clearing or enrolments usage has peaked at 900 accesses in a day,.
Fifteen colleagues in areas such as student planning and management accounting have now added COGNOS report writing to their skillsets, supported by three technical staff.
The service has enabled:
The addition of new data sets: research, academic quality and standards, portfolio health, league tables, destination of leavers, national student survey and key performance indicators.
External data to be incorporated which allows us to benchmark.
Dashboards for each School and teams within Schools.
Management meetings such as our Quarterly Business Reviews to use these reports and dashboards to facilitate discussion and decisions.
We have been highly successful and now have our daily business position, we have 'one version of the truth'.  We can now happily benchmark ourselves against leading businesses in the private sector rather than just the higher education sector alone.
Key learning for colleagues in the sector
In conclusion, here are my reflections for colleagues who might be embarking upon or considering similar initiatives.
Having information available all day every day can be uncomfortable. There is no opportunity for human intervention. If something looks a little odd it can't be tweaked before the report is circulated. It is therefore essential for the data in the underlying systems to be accurate and robust. Achieving this in itself can be a demanding task, perhaps requiring dedicated project resource to achieve it.
It's long journey and a lot of work has to be put in before any visible progress is made. You will need to:
ensure robustness in the underlying data held in core systems
build a data warehouse and create a common coding structure
produce and publish reports
build dashboards and create key performance indictor reporting.
Senior level support is essential as is a sustained effort from a dedicated project board and project team.
James Lacey james.lacey@ntu.ac.uk is Director of Finance at Nottingham Trent University. He would be pleased to respond to requests for more information about this work.
A version of this content also appears on the Guardian higher education management and administration hub.