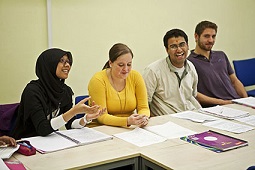 An institution with its origins in Victorian philanthropy values the contributions of all its workers and makes a positive impact on its local community.
While outsourcing can save money, it often has unintended negative impacts on university life, says Professor Jane Wills of Queen Mary University of London, who will be giving a keynote address on 'The case for the living wage and in-house services' at the Strategic Sourcing: new approaches to deliver success conference in London on 4 February.
In challenging economic circumstances, universities have often followed the dominant business model by subcontracting their low wage routine work to a variety of cleaning, catering and security firms. The argument is that this allows the university to focus on its core business (research and teaching) while shedding the unnecessary costs and responsibilities of employing many hundreds of workers.
In relinquishing control, universities are ensuring that some of the most prominent workers on campus are less invested in the organisation. Not being part of the host community implies you are less important, that you are less valued, and when outsourcing also puts severe downward pressure on wages and conditions of work, this is reflected in the wages you get.
Our cleaners, cooks and security guards interact with the most important and potentially most vulnerable members of our communities (students) at their times of greatest need: when they feel homesick sitting alone in their accommodation; when they need to feel safe; when they are struggling to cook for themselves when away from home for the first time.
It is often cleaners, cooks and security staff who mediate the most significant emotional interactions between universities and students. While academics might be filling our students' heads with wonderful ideas (often about social justice), much student engagement with the university happens outside the classroom.
There is a lot at stake in the way our cleaners, cooks and security workers feel and behave. Yet despite this, universities that have outsourced such workers have no influence over their training, development, working conditions and emotional attachment to the university's work. Saving money on one account can lose money and much more than money on other accounts.
Since 2008, Queen Mary brought its domestic services back in-house and now pays above the London living wage to the workers who have so much to offer the campus community. Our cleaners provide essential services, they interact with students and they have important links to the community beyond the walls of the college.
The spirit of the university is manifest in the way that it respects and values the work of its cleaners.
Jane Wills is Professor of Human Geography, Queen Mary University of London