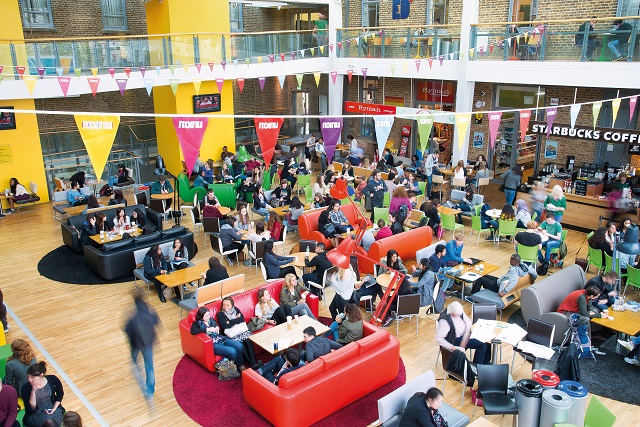 The University of Leicester has developed an approach to engaging senior leaders with the student experience. In the latest of our blogs from the nine Innovation and Transformation Fund projects, Claire King writes that the university believes it can provide valuable insight for institutions looking to develop similar approaches.
Are students at the heart of our processes? This is a question that all universities would like to say yes to. Here at Leicester we set out to answer this question using a new approach aimed at removing the barriers between university staff and students.
The project enlisted the support of twelve senior managers, twenty members of staff and twelve students, including four distance learners. Staff and management were then paired with a student for the duration of the six month project, and tasked with meeting regularly and discussing the student experience face-to-face.
The project set out to deliver these aims;
Understanding whether bringing senior leaders closer to the student and frontline staff impacts on the way in which they prioritise and influence change

To develop an approach which could be used across the sector, for connecting staff and student voices to improve the student experience
A key element of our approach was building in structured time for conversations and reflection and providing a "safe space" for this became one of the underpinning principles of the project.
The work was made up of four key stages, which you can read more about at on our webpages.
1. Entry and contracting stage – identify people that wanted to be involved, setting up small groups and meeting people on a one to one basis.
2. Diagnosis stage – understanding the issues through diaries, group meetings and action learning sets with senior managers to critically reflect on a theme and agree next steps.
3. Planning and negotiating stage – through continual feedback sessions the groups identified the areas that were most important to the student journey. Here at Leicester our six key themes were:
Student expectations

Communications

Processes

Facilities

Student experience

Teaching and Learning
A series of drop in sessions were organised over a two day period in which groups of participants came to discuss their themes. This lead to a final workshop where a picture was created to represent what the University would look like in 18 months time.
Taking Action Stage
Small groups of participants will now begin to take forward actions identified and engage key stakeholders with this.
We will also disseminate the project outputs and a web page with associated information that has been published for this purpose.
This project has led us to two key conclusions:
When considering making changes, the student perspective is critical. Having a two-way dialogue as opposed to simply surveying students provides a chance to get to the heart of an issue and use follow up questions as appropriate.

In building enthusiasm for change, the direct interaction with our students has yielded the most learning and the greatest desire for making improvements.  This will become a key pillar of our continued improvement efforts and providing opportunities for staff and students to interact outside the normal committee structure will be central to this.
The funding for this work has now ended, however as a result of the project, the University of Leicester is committing to build on the changes identified through this project to ensure that the student journey is placed at the heart of our decision making.
We would like to thank the Leadership Foundation for Higher Education and the Efficiency Exchange for their support in making the project possible and to all of the staff and student participants who gave their time and enthusiastic support to the work.
For more information about the project please contact Claire King, Change Co-ordinator, University of Leicester, t: 0116 229 7807 or have a look at our webpages
The Innovation and Transformation Fund (ITF), supported by the Leadership Foundation and Hefce, stimulates projects to unlock and share good practice in order to advance efficiency and transformation across the higher education sector. The nine projects for 2014, focusing on engaging the higher education workforce in process review, performance and career management and development, are nearing completion and will be shared over the next few months.