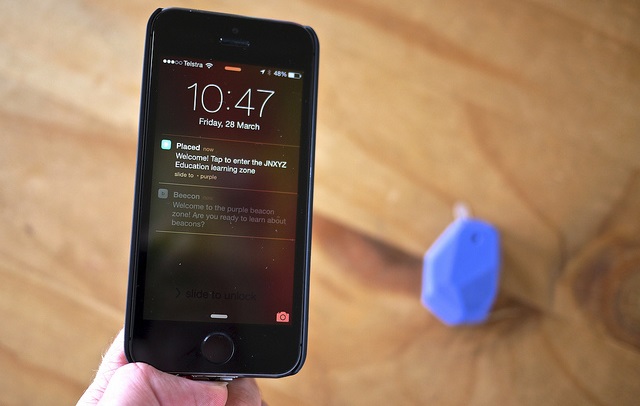 The growing use of smartphones is making micro-location technology more attractive but could it be used in higher education? Sheffield Hallam University's Ian Glover describes a study he has jointly carried out into the use of 'bluetooth beacons'.
Smartphones and tablets are an indispensable part of life for growing numbers of people, to the point that we can feel lost if we don't have one with us.
While the explosion of Pokemon Go across the globe raised the profile of using of micro-location technology to uncover digital content with a mobile device, bluetooth beacons offer organisations a similar method of combining their physical spaces with digital resources and interactions by giving a way to send a weblink or trigger an action in a mobile app at a particular location.
This means that information can be targeted to relevant people with a high level of precision, even down to particular people at a specific time and place, offering huge potential to boost the efficiency of organisations and individuals by ensuring that irrelevant information does not distract people.
The technology behind the beacons is quite simple: a small device containing a battery and bluetooth transmitter is placed at the appropriate location, such as an entrance, where it sends out a small piece of data, either a unique ID number or a web address, at regular intervals that can be picked up by a smartphone or tablet app and used to trigger an action, such as updating a map or logging a person as having entered a building.
Way-finding
Interest in using beacons is growing among universities, private companies and municipalities. Perhaps the most common use for them at the moment is in indoor way-finding, essentially using them as a kind of sat nav around a building or campus.
Amsterdam's Schiphol airport has incorporated beacons throughout its terminal buildings, and by downloading the relevant app and picking your flight, it tells you when you need to leave the duty-free shops to get to your gate on time and provides a map of exactly how to get there.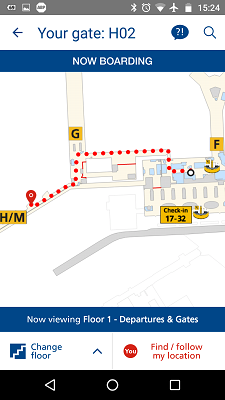 This type of application would be applicable in many other situations, such as getting students to the right classroom on time, and could even be enhanced to use real-time information about congestion within a building to suggest alternative routes that could be quicker.
Experiments with beacons
Educational organisations are beginning to experiment with using beacons for a variety of purposes. For example:
The University of Bradford have piloted beacons as a method of making open days more engaging and relevant to prospective students and their families.
Manchester Metropolitan University and the University of Salford have used beacons to support a city-project to engage the public in science and the city's scientific heritage.
Several institutions, including the University of Sheffield and Sheffield Hallam University, have expressed an interest in using beacons as a method of gathering data on student attendance for integration with online Learning Analytics data.
University mobile app suppliers, such as CampusM, now integrate beacon technology into their products for a variety of purposes, including way-finding and attendance monitoring.
My colleague, Kieran McDonald, and I have been involved in several beacon initiatives at Sheffield Hallam University. We have augmented a graphic design studio by adding layers of digital content to support the students in the types of activities that they are engaging with in different parts of the space.
Sharing resources
Beacons have also been used to share electronic resources with conference participants and to enable staff member to showcase their work to other people in the immediate vicinity of defined locations. We have also begun investigations into how beacons might be used to create virtual galleries and enable showcasing of student work within informal spaces around the campus in order to inspire and stimulate other students and staff members.
Beacons are an extremely simple, yet versatile, technology that makes use of devices that most of us carry around all the time and Kieran and I would love to discuss and develop ideas that you might have.