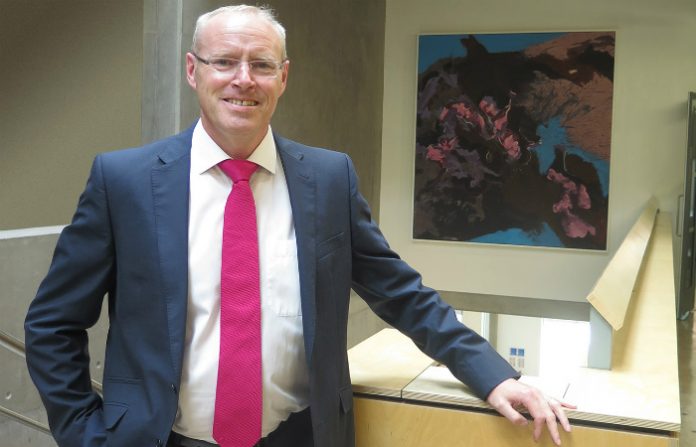 John Cappock joined the higher education sector less than two years ago, but already he has overseen a lot of developments as chief operating officer at Cardiff Metropolitan University. Ian Powling finds out his approach to change at an institute in transition.
John Cappock is currently the only member of Cardiff Metropolitan University's senior management team to have been recruited from outside the sector. He is a qualified accountant and before becoming chief operating officer at Cardiff Metropolitan University, he was finance director at the Intellectual Property Office, an executive agency of BIS and prior to that, director of resources at UCAS.
Cappock joined an institution in transition and is now leading what he describes as "an ambitious change programme" called ICE, which stands for Improve, Capability and Efficiency. It is putting an enhanced student experience at the heart of the university's activities and is striving for professional services that remove duplication and deliver more efficient processes.
One team ethos
Cappock's vision for a one team ethos has been at the core of this strategy. It aims to develop cohesion within a diverse group of managers and has included away days to develop strategy which encompass a social element to help bind the group together. Cappock puts great importance on being visible. This reflects his personal approach, but could equally apply to his vision for professional service teams so that service users don't always have to find them tucked away "down long dark corridors".
Language is important, Cappock notes, and he makes a point of referring to colleagues delivering professional services rather than administration. He also seeks to empower staff to think innovatively: "I lead a team of senior professional people and it is important to me that I give them space and opportunities to make their mark while providing an appropriate level of support."
Cappock came into the post almost two years ago with a clear remit from the chair of governors, Barbara Wilding, and the vice-chancellor, Professor Tony Chapman, to re-architect the professional services function. This involved amalgamating three former roles into a single chief operating officer role and combining three teams into one. He brought in a team from Maxxim, a firm of management consultants with experience in HE to carry out a review, but he was keen that the restructuring programme should be implemented and owned in-house.
The review by Maxxim during the summer of 2014 showed where team structures could be optimised. Far from being bloated, some areas such as finance required investment in order to provide an enhanced level of service to include business partners. In particular, the registry function required a comprehensive restructure and this restructuring went hand-in-hand with a new approach to open plan working and office accommodation and the introduction of a more outward-facing service culture in certain areas.
With the review seeking to reduce the COO senior team of 10 to seven, an important question was the scope of the COO's team. It was decided that while academic administration should be included, the management of quality and standards associated with delivering the student experience would remain outside the team.
Making the weather
Cappock's experience outside higher education informs another aspect of his approach to professional services. He is keen  to encourage senior managers to recognise how the university is evolving to have more business-like structures and procedures to support the work of academic colleagues, and this aptitude is something that will be taken into account when identifying potential candidates for succession at senior levels.
Another area of change is the university estate. Cardiff Met has consolidated from four to two campuses with new schools at the Landaff campus for management and art and design. Open plan office working in professional services areas is being implemented as part of the change programme, although Cappock notes that the transition process has been "turbulent". The focus of estate development is now shifting to the Cyncoed campus to the north east of the city.
Looking to the future, Cappock acknowledges that the regional dimension influences what is possible in terms of investment at Cardiff Met with higher education funding being squeezed. In terms of its market, the institution also has to take into account the proximity of local universities and also competition from English universities as a result of the removal of the cap on student numbers.
Despite these constraints, Cappock is optimistic about Cardiff Met's prospects for the coming five years. "We're in a good place," he says. "Our REF performance is improving – we achieved success by taking a very focussed, high quality approach to the REF submission of highly rated research areas. This stood us in very good stead.
"The numbers of students entering via clearing has been declining year on year," he continues. "Our challenge now is to diversify our offering and identify new products and services."