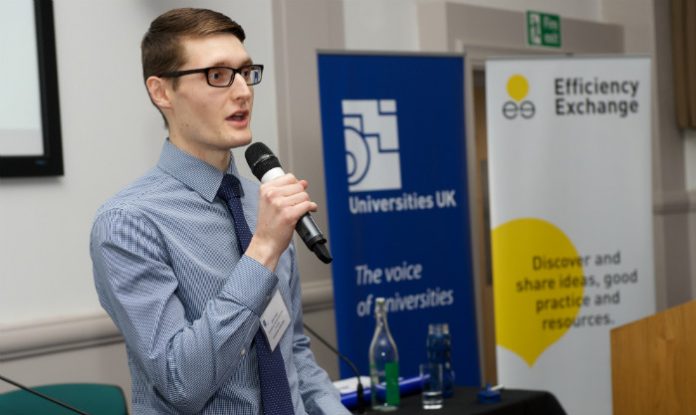 Some 20 universities have joined forces to create a more defined path for graduates interested in a career in higher education with the Ambitious Futures programme. John Lacey, who has had placements at two universities in the north west of England, describes how these experiences have offered him new perspectives on the student journey.
Have your placements offered a good opportunity to see how universities are working to improve the student journey?
One of my earliest projects at Lancaster University was very student focussed and provided a real insight into how a top 10 university is working to improve the individual journeys of its students.
Within the university's student based services, I worked closely with the head of strategic development, Claire Povah, on the journey mapping project. We engaged with incoming students to capture feedback. This helped us to identify key challenges faced during the early stages of the student journey. Colleagues from across professional services responded to the obstacles we identified by taking action to enhance the student experience in the spirit of continuous improvement.
Just last year it was announced that students are becoming much more conscious of their value for money within higher education; as "only 7% of students from England on the higher fees feel they receive 'very good' value for money". The journey mapping project demonstrates how universities are working to better understand and improve the student journey.
What were you working on at your other placements?
Whilst working in the division of communications and marketing at The University of Manchester, I was responsible for leading the relaunch of The Hive, a two-way, collaborative, online platform that enables staff to submit, comment and vote on ideas that address current business issues. Ideas were generated from staff at all levels and provided suggestions for improvement across the university.
The Hive had proven that it could enhance communication and provide staff with an effective voice within the institution during a successful pilot. The next stage was to deliver a consistent service to a greater proportion of the university's 11,000 staff. I was involved in presenting to senior leaders, training system administrators and champions, setting up the platform, developing governance and training documents, developing and delivering a communications and engagement plan and liaising with the university's IT services department and third party suppliers.
The team that worked on The Hive were a great help throughout. I especially appreciated the knowledge and support from Kate Cassidy, a senior intranet officer at the university, which added to the project's efficiency and success.
As a recent graduate, has working within HEIs made you see your university life differently, particularly in relation to the value for money that they provide?
Seeing university life from a professional perspective has opened my eyes to the amount of effort and resources that are dedicated to providing even the smallest of services to students.
Having fully understood this, my perception of the value for money that a student gets has definitely improved – especially compared to how I felt as an undergraduate paying £9,000 a year for tuition!
Would you recommend the Ambitious Futures Graduate Programme to other recent graduates?
If a graduate wants a career within a dynamic and diverse sector, then it is ideal.
The programme provides the opportunity for graduates to lead exciting projects across two major institutions. You have exposure to senior leaders from the very beginning and are surrounded by a strong support network.
The programme focuses on developing each graduate as a professional, providing the opportunity to complete a leadership and management qualification alongside the day-to-day project work.
There is currently no other graduate programme that offers the same opportunities within higher education. It truly is a chance to kick-start a highly successful, and potentially global, career.
Last year your proposed app BookMart won the Open Data Mashup Challenge – what impact has this had on your work in higher education?
Winning the Open Data Mashup Challenge with BookMart has been one of the most rewarding parts of my career so far. I hope to continue to work alongside distinguished professionals as a result, and learn a great deal from doing so.
What do you like to do in your spare time?
Like most, I love to spend as much time as possible with friends and family. I also enjoy playing and watching a variety of sports.
The Ambitious Futures was launched by the Association of Heads of University Administration which is partnering with 20 universities to help create the university leaders of tomorrow.