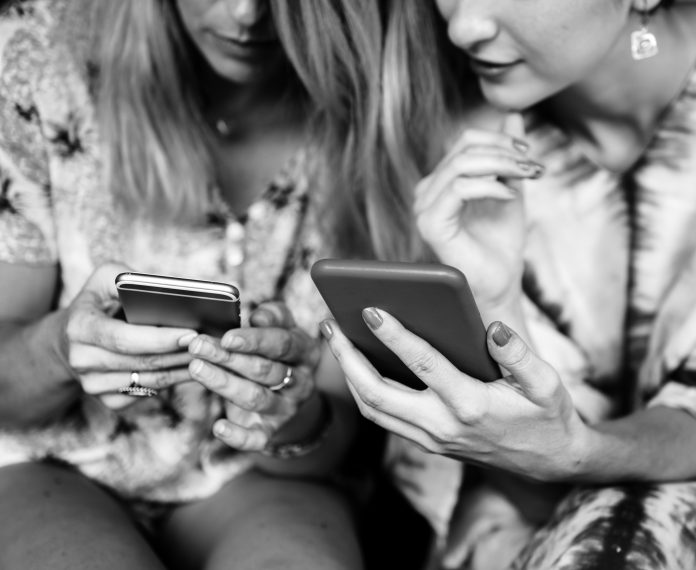 In this blog Jo Clarkson, Market Research and Insight Manager at the University of Warwick, shares how the HearNow project increased students' feedback while minimising survey fatigue. The project by gathering students' opinions as 'snap-shot' sentiments through technology and Gamification raised the number of active users from 200 to 13,000 with an average of 50% response rate.
Student opinion is in high demand from universities, government and the private sector.  As a campus university, the University of Warwick manages a variety of services for its students, staff and local community that have a growing desire to consult with students to evolve their services accordingly. Yet, the result has been a fragmented approach to market research, often resulting in ever smaller response rates, duplicate questions, multiple all-student surveys and sometimes frustration with results that do not answer the original research problem.
We needed to find a way of getting the valuable quality insight required, without overburdening our audiences with frequent demands for feedback and adding to the 'survey fatigue'.
Approach taken
First we created Insight Central – a professional customer insight team- to co-ordinate and improve existing market research. Insight Central advises when a survey is not the best option while maximising the use of existing student data – such as the student barometer and NSS while co-ordinating necessary surveys thus avoiding 'survey fatigue' and gaining better data as a result.
Second, we needed to reach the right audience, at the right time, in a user friendly way. The challenge was how to create precisely defined target groups that were large enough to be representative for services to respond quickly to 'in the moment' sentiment. To be accessible and capture immediate views and sentiments smartphone deployment was the only option.
The HearNow solution
HearNow, developed in-house by Warwick's IT, retail and marketing teams is an incentivised digital community-feedback platform to capture 'service temperature checks' and idea testing. The technology allows for precise audience targeting by filtering students' responses through already existing data.  Via its Gamification capabilities, HearNow users receive an immediate notification to their email or phone when a new 'snap poll' is live and, in return for completing the questions, receive a financial incentive on their university payment card linked to Warwick's in-house loyalty system.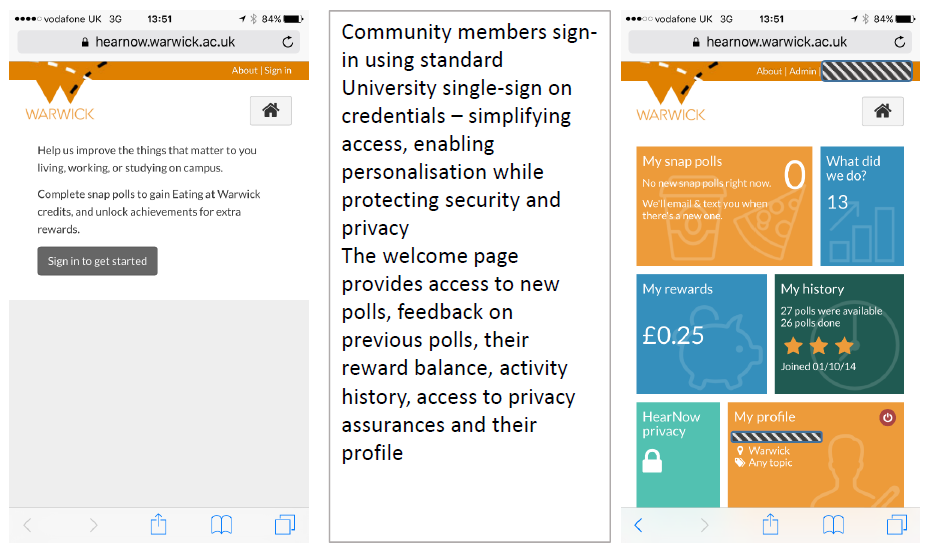 The functionality also allows survey commissioners to provide feedback to students on follow-up actions thus closing the feedback loop. To persuade commissioners to see HearNow as a 'snap shot' of sentiment rather than a full-scale academic-style survey, guidelines were developed for the use of the tool, including question limits and examples of appropriate topics.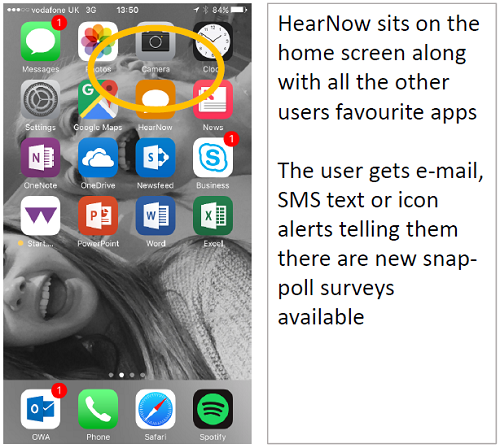 Impact and outcomes
HearNow saw an average 50% response rate across polls in the 2015/16 academic year, and the number of active users has grown from 200 to over 13,000. HearNow prompted richer findings through examination of previous research, face to face 'snap shots', focus groups/ interviews, or data analysis. The surveys that did take place were co-ordinated, in content and timing to ensure no overlap.
As a result, we gained insight on levels of demand for new services like 3D printing; improvements of existing services like sports and accommodation; our community's views on issues like sustainability and innovative teaching and learning; and, targeted recruitment to focus groups.
The success of HearNow depended on the quality of the polls; short, easy to engage with whilst also useful to the survey commissioner. Going through this process was helpful from a market research perspective, challenging commissioners to develop tight objectives and really think about what they would use the research for.