A group of graduate interns and apprentices from Student Services in the at Sheffield Hallam University's (SHU) Faculty of Development and Society were among the participants in November's Open Data Mashup Challenge. Lucy Shanks explains how the challenge will benefit their work to improve the student journey.
The opportunity was presented to us by our management to develop an app that enhances the student journey for the Open Data Mashup Challenge, organised by Universities UK, Jisc and the Open Data Institute.
As our work is almost entirely project based and our focus is improving the student experience, it was thought that this would be a great opportunity to branch out of SHU and develop new skills in a unique and exciting event. Initially, we were unsure if we had the capability to undertake such a task, but we quickly realised what a worthwhile experience it would be – and we didn't quite know at this point how much we would learn from this opportunity.
On 17 November, myself and two other members of staff from the faculty, Tara and Josh, travelled to London to attend the Open Data Mashup Challenge. The day explored using Open Data in the Higher Education Sector to enhance the student journey. The event was attended by all the successful applicants who entered a competition to design an app. Our idea was 'The Digs Stuff.' The concept of the app is to help prospective students to choose the best university and accommodation for their requirements.
Throughout the day there was the opportunity to network with various people, gaining useful contacts. The day included a number of sessions including speeches from Sir Nigel Shadbolt Professor of Computer Science at University of Oxford, Chris Gutteridge, system, information and web programmer at University of Southampton, Dr Tony Hirst lecturer in the department of communication and systems at The Open University and Jonathan Waller director of information and analysis at HESA, as well as a range of group activities.
The student journey was mapped out, highlighting the positives, challenges and possible data sets that could be used in each stage for example, application and registration. We delivered a 60 second pitch to the room outlining our idea, which resulted in competitors from other universities collaborating with us, building further to our concept. At the end of the day we delivered a four minute pitch of our idea to a judging panel.  Whilst we didn't win on the day, our app was highly commended and we came away with a real understanding of how open data can enhance the student lifecycle.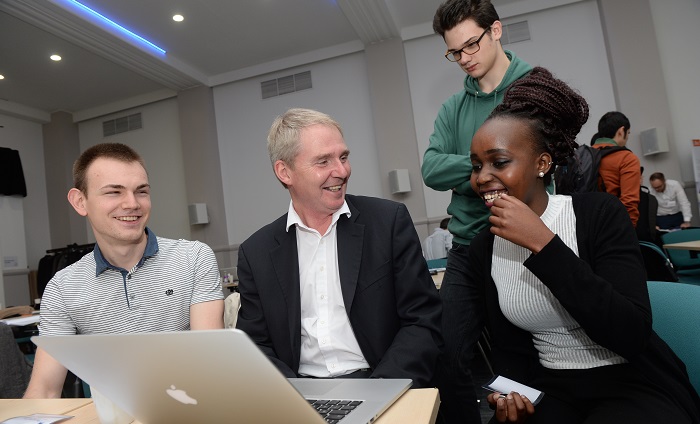 This was a great event to be involved with, particularly as its remit is closely aligned with the work we do in our roles as graduate interns. A significant proportion of our projects are based on process improvement, for example one of the projects we are currently working on is recommending improvements for the process of postponing classes.
This experience has enabled us to gain an understanding of the benefits of open data and has allowed us to make new contacts that are able to offer their expertise. We intend to take the knowledge gained from learning about open data back to our university. It was an invaluable experience and something we would recommend.
Lucy Shanks is a graduate intern in student Services in the at Sheffield Hallam University Faculty of Development and Society. She can be contacted for further information. Her team mates were fellow graduate Tara Seipel and apprentice Josh Elliot.