Following Universities UK's (UUK) recent open data mashup day in partnership with Jisc and the Open Data Institute, Ian Morton of UUK reflects on how smarter use of data by universities could play a significant part in answering the objectives of the government's green paper on higher education – and also much more.
The government's green paper on higher education aims to "raise teaching standards, provide greater focus on graduate employability, widen participation in higher education, and open up the sector to new high-quality entrants". New metrics – for teaching, for research, for all aspects of university function – seem set to be at the heart of the reforms. Not just to inform government but also to underpin choice. As Paul Clark CEO of HESA claimed in an article in the Times Higher Education: "as we move towards a marketised sector the importance of data becomes ever more pronounced."
However, innovative uses of data go beyond simple compliance and consumer information to offer profound improvements in the way 21st century universities adapt to competitive environments and deliver on core objectives.
With this in mind, I attended UUK's open data mashup day and noted some of the areas in which the higher education sector is seeking to use data to address the issues raised in the paper and beyond.
Take the Teaching Excellence Framework (TEF): its proposals have been questioned by a number of people, including most recently Andreas Schleicher, director of education and skills at the OECD, for the use of proxies to measure teaching excellence. At the event, colleagues at Jisc described piloting new analytics with partner universities that might not only be used to assess the quality of teaching but also to predict student learning outcomes.
Of course predictive analytics will almost certainly have wider applications than learning. In the green paper the minister also announced the establishment of a Social Mobility Advisory Group to improve the outcomes for students from disadvantaged students and BME students across the entire student lifecycle, including access, retention, attainment and employment. At the event, Professor Sir Ian Diamond, vice-chancellor at Aberdeen, outlined how his university uses data to improve retention levels through its Go Green programme, which enables them to spot any student at risk of dropping out. Discussions revealed that other universities are adopting similar methods to great success too, including at Nottingham Trent University.
The open data mashup day also rose above immediate policy contexts to bring together universities, students and data experts to explore how open and linked data could bring benefits to institutions and students. The event was organised around responses to an open data mashup challenge, where developers in universities and the digital industries were asked to come up with great ideas for using open data to enhance the student journey. On the day, the variety and quality of student pitches demonstrated some fantastic ways to use open and linked data to improve the student experience.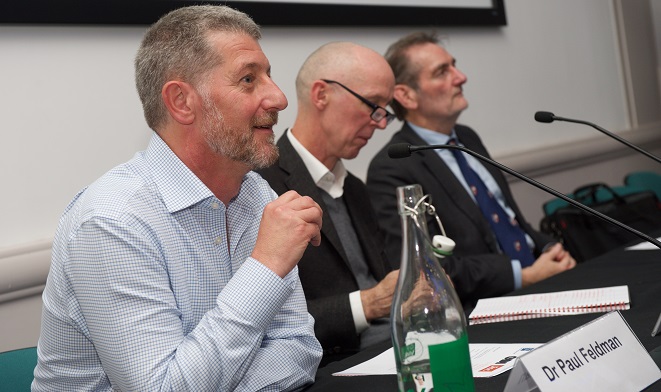 In the closing discussion, chaired by UUK's John de Pury, Professor Sir Ian Diamond observed that "open data is not just useful, but critical", while Paul Feldman, recently appointed CEO of Jisc, said that not engaging with the Open Data debate "was like Canute trying to hold back the tide… it's a loser's game as others will do it whatever we decide".
While this event generated a buzz of enthusiasm for exploring the opportunities to make better use of open and linked data, there is clearly still quite a bit of work to do – including promoting the possibilities more widely within the sector. UUK has a new programme focussing on innovation in higher education – in particular, how innovative uses of data will drive sector improvements – and it will continue to explore and promote this in the months to come.
As Sir Ian suggested, these changes, these new ways of using data to improve how universities deliver core missions of teaching, research and engagement, will need buy-in from senior leaders to make them happen. In the immediate term, it seems the green paper may well provide the first push.
Ian Morton is campaigns manager at Universities UK